Newsletter


Entrance Exam


Support - IT

You may download several Freeware Softwares from this section.

+ Details


27/8/2020 - A new study on "Application of records theory on the COVID-19 pandemic in Lebanon: Prediction and Prevention" conducted by Dr. Zaher Khraibani, and published online by Cambridge University Press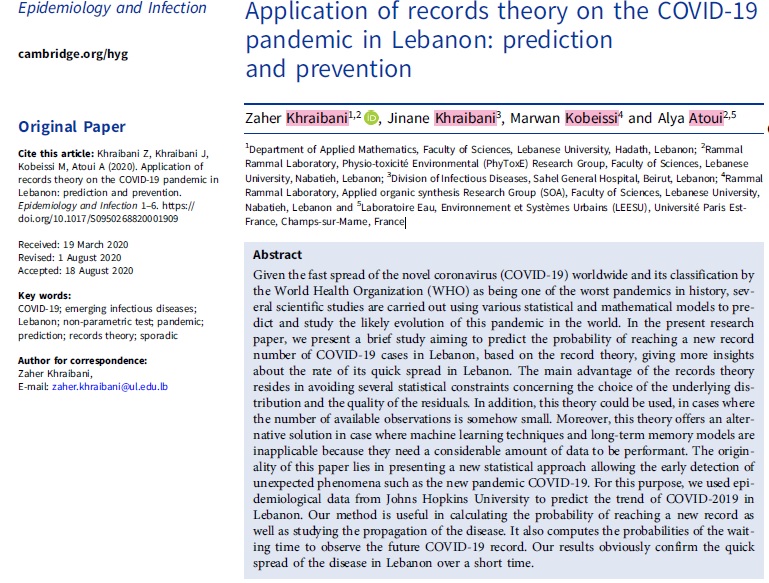 Pr. Zaher KHRAIBANI specialist in Biostatistics and Epidemiology at the faculty of sciences published an advanced general statistical method in the journal "Epidemiology & Infection"; issued by the Cambridge University Press. The novelty of this article lies in presenting a new statistical approach allowing the early detection of unexpected phenomena such as the new Pandemic COVID-19. The results of this article clearly show a percentage of spread of COVID-19 of about 82% within few days. This shocking conclusion predicts over 25000 cases in the upcoming days in Lebanon.
Application of records theory on the COVID-19 pandemic in Lebanon: Prediction and Prevention
| | |
| --- | --- |
| | 1542 |

| | | |
| --- | --- | --- |
| | | 70 |
| | | |
| --- | --- | --- |
| | | 86 |
| | | |
| --- | --- | --- |
| | | 238 |
| | | |
| --- | --- | --- |
| | | 166 |
| | | |
| --- | --- | --- |
| | | 130 |

| | | | | | | |
| --- | --- | --- | --- | --- | --- | --- |
| Latest News | 1 - 5 | of | 93 | | | Show all news |