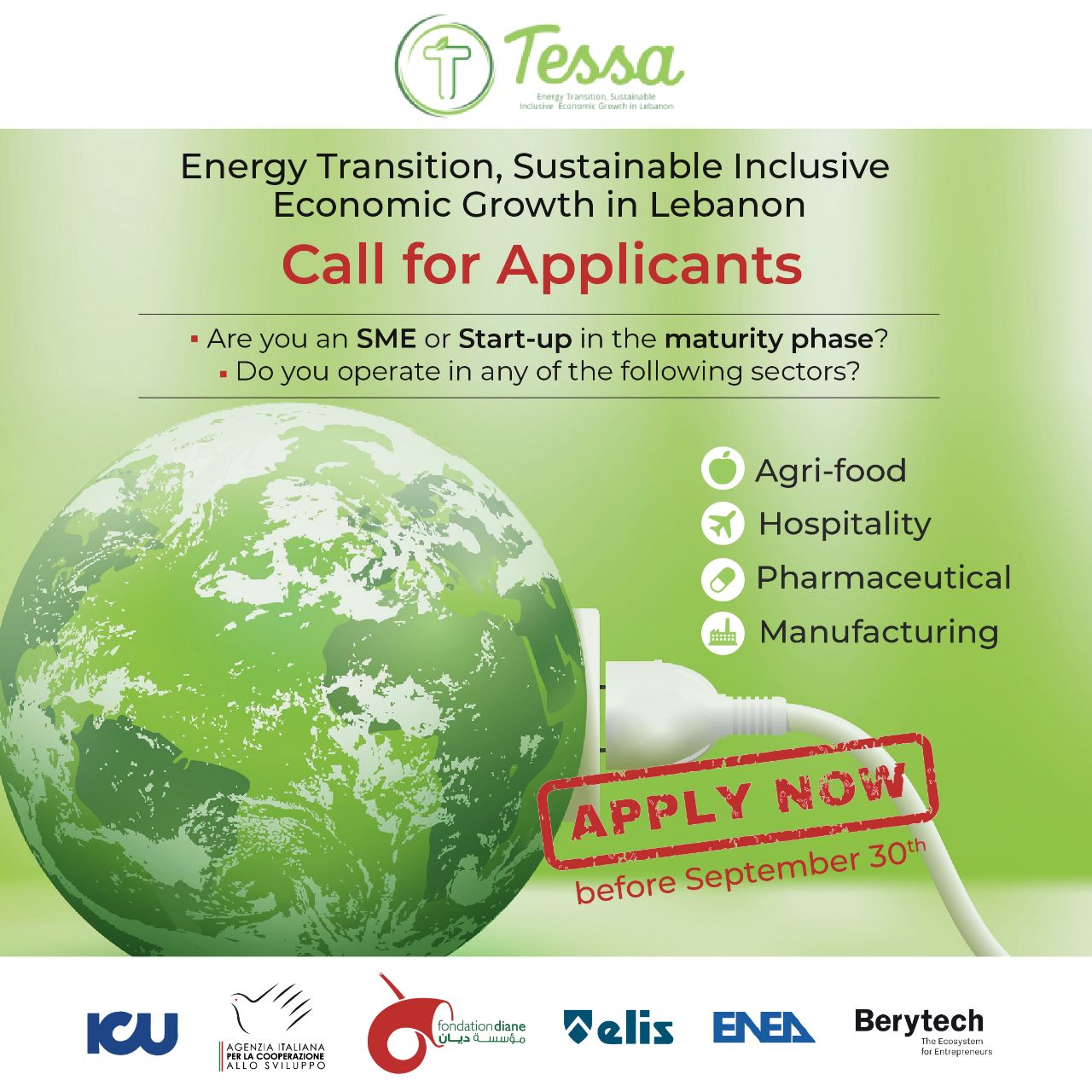 The TESSA Project is here; a ground-breaking initiative that aims at encouraging Energy Transition that can drive economic development, employment inclusion and environmental sustainability!
Are you an SME or Start-up in the maturity phase?
Do you operate in any of the following sectors?
| Agri-food
| Hospitality / Tourism / Restoration
| Pharmaceutical
| Manufacturing
Are you interested in receiving:
𝘛𝘳𝘢𝘪𝘯𝘪𝘯𝘨 𝘵𝘰 𝘥𝘦𝘷𝘦𝘭𝘰𝘱 𝘺𝘰𝘶𝘳 𝙂𝙧𝙚𝙚𝙣 𝘽𝙪𝙨𝙞𝙣𝙚𝙨𝙨 𝙈𝙤𝙙𝙚𝙡 (𝙂𝘽𝙈)?
𝘛𝘳𝘢𝘪𝘯𝘪𝘯𝘨 𝘵𝘰 𝘥𝘦𝘷𝘦𝘭𝘰𝘱 𝘺𝘰𝘶𝘳 𝙂𝙧𝙚𝙚𝙣 𝘽𝙪𝙨𝙞𝙣𝙚𝙨𝙨 𝙋𝙡𝙖𝙣 (𝙂𝘽𝙋)?
𝙀𝙣𝙚𝙧𝙜𝙮 𝘼𝙪𝙙𝙞𝙩 𝘧𝘰𝘳 𝘺𝘰𝘶𝘳 𝘣𝘶𝘴𝘪𝘯𝘦𝘴𝘴?
𝘏𝘦𝘭𝘱 𝘪𝘯 𝙞𝙢𝙥𝙡𝙚𝙢𝙚𝙣𝙩𝙞𝙣𝙜 𝙮𝙤𝙪𝙧 𝙂𝘽𝙋?
𝘼𝙘𝙘𝙚𝙨𝙨 𝙩𝙤 𝙁𝙪𝙣𝙙𝙞𝙣𝙜 𝘪𝘯 𝘌𝘯𝘦𝘳𝘨𝘺 𝘛𝘳𝘢𝘯𝘴𝘪𝘵𝘪𝘰𝘯 𝘵𝘰𝘸𝘢𝘳𝘥𝘴 𝙍𝙚𝙣𝙚𝙬𝙖𝙗𝙡𝙚 𝙀𝙣𝙚𝙧𝙜𝙮 & 𝙀𝙣𝙚𝙧𝙜𝙮 𝙀𝙛𝙛𝙞𝙘𝙞𝙚𝙣𝙘𝙮?
𝗔𝗽𝗽𝗹𝘆 𝗡𝗼𝘄 to the 𝗧𝗲𝘀𝘀𝗮 𝗣𝗿𝗼𝗷𝗲𝗰𝘁: https://tessaproject.com/
𝘋𝘦𝘢𝘥𝘭𝘪𝘯𝘦 𝘧𝘰𝘳 𝘈𝘱𝘱𝘭𝘪𝘤𝘢𝘵𝘪𝘰𝘯𝘴: 𝘚𝘦𝘱𝘵𝘦𝘮𝘣𝘦𝘳 30𝘵𝘩, 2023.