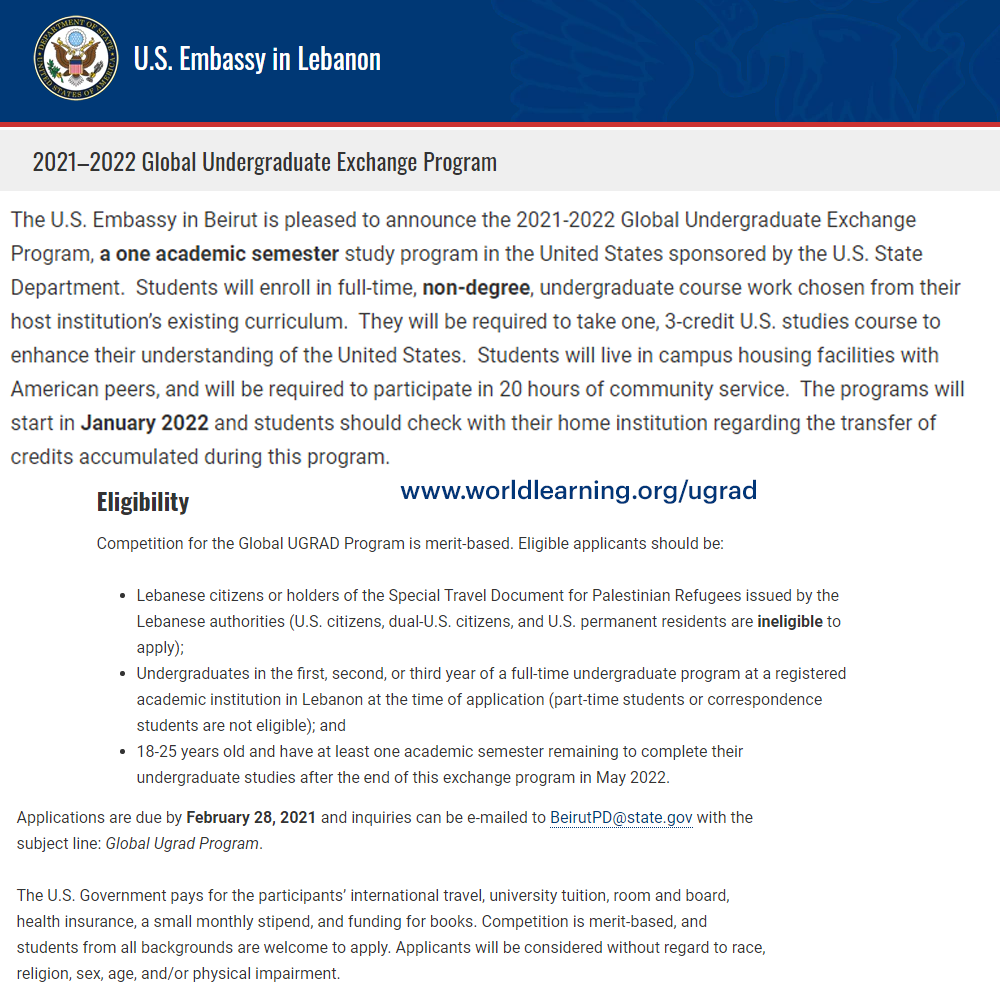 The U.S. Embassy in Beirut is pleased to announce the 2021-2022 Global Undergraduate Exchange Program, a one academic semester study program in the United States sponsored by the U.S. State Department.
Students will enroll in full-time, non-degree, undergraduate course work chosen from their host institution's existing curriculum.
They will be required to take one, 3-credit U.S. studies course to enhance their understanding of the United States.
Students will live in campus housing facilities with American peers, and will be required to participate in 20 hours of community service.
The programs will start in January 2022 and students should check with their home institution regarding the transfer of credits accumulated during this program.
For more information, please visit program website.
Eligibility
Competition for the Global UGRAD Program is merit-based. Eligible applicants should be:
· Lebanese citizens or holders of the Special Travel Document for Palestinian Refugees issued by the Lebanese authorities (U.S. citizens, dual-U.S. citizens, and U.S. permanent residents are ineligible to apply);
· Undergraduates in the first, second, or third year of a full-time undergraduate program at a registered academic institution in Lebanon at the time of application (part-time students or correspondence students are not eligible);
· 18-25 years old and have at least one academic semester remaining to complete their undergraduate studies after the end of this exchange program in May 2022.
Preference will be given to those who have had little or no experience in the United States or outside of their home countries.
Applicants are required to return directly to their home country after the completion of the program.
Applications are due by February 28, 2021 and inquiries can be e-mailed to BeirutPD@state.gov with the subject line: Global Ugrad Program.